Software and Online Services
The website 750words.com is a great way to develop—and stick with—a regular writing habit. It will send you daily reminders and track whether you write each day (and whether you complete 750 words, the equivalent of the three "morning pages" Julia Cameron recommends in The Artist's Way
).
Scrivener is an amazingly powerful (and surprisingly affordable) tool for writers of all stripes. This software helps you organize your writing and keep track of all your ideas and projects. As they say on their website, "Scrivener is a powerful content-generation tool for writers that allows you to concentrate on composing and structuring long and difficult documents. While it gives you complete control of the formatting, its focus is on helping you get to the end of that awkward first draft."
If you're looking for a distraction-free way to write on your computer, check out OmmWriter, "a writer's haven." OmmWriter creates a full-screen environment—complete with relaxing music, if you want—to help you get in the zone.
Below are a number of posts I've written to help you get more writing done, edit your own writing, and work with an editor more effectively.
I've been thinking a lot lately about rules. Why they exist, why we follow them, why we don't follow them. Editors often get a bad rap for being enforcers of seemingly stupid or arcane rules that (almost) no one cares about, but that's not the way I work, so I wanted...
read more
FREE Guide: 10 Essential Questions to Ask before Hiring an Editor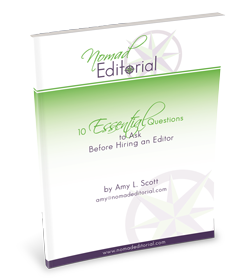 This free PDF walks you through all the important questions that will help you hire the best editor for you and your project.