Some of My Happy Clients
I've worked in publishing since 1999, and I've been serving, supporting, and coaching writers through Nomad Editorial since 2005. I'm thrilled and honored to have so many satisfied clients who keep coming back and who generously recommend me to others!
I'm terrible at editing my own work—in fact, I believe everyone is because we are too close to our own words. So even though I had three beta readers for my book, I knew I needed to have a professional edit the book line by line to capture any small errors (or even big ones). Amy did just that! She found all the little mistakes, and she commented on some developmental issues that neither I nor my beta readers had caught. I believe my book is 100% better because of Amy's keen insight and skills. If you're on the fence about whether you need a copy editor for your book, trust me: you do! Your readers and I would bet your book sales will thank you for it.
—Michelle Mazur, author of The 3 Word Rebellion
As a consultant, I expect the highest quality, and Amy exceeded my expectations. She was easy to work with and her editing and suggestions took my writing to the next level of excellence.
—Kerry Wekelo, author of Culture Infusion
The best decision I made in writing my book was hiring Amy to edit it! Amy's depth of thinking into my subject matter really amazed me—she's not a farmer, yet she embraced the subject, understood what I was saying, and seemed comfortable with the unique terminology I was using. Amy did a wonderful job, and my book came out so much better than I expected. I now tell everyone who is writing a book to budget for an editor and call Amy!
—Charlotte Smith, author of Farm Marketing from the Heart
Without Amy, my book probably would have never seen the light of day. Her copyediting helped polish and fine-tune the text and she blew me away with her insights. I know I will turn to her again in the future.
—Jenna Christina, author of Unposed Baby Photography
Amy transformed my book from good to great. Her attention to both detail and the big picture meant that
my ideas were more clearly communicated and my message was stronger than ever before
. Her process was easy to manage and thorough. I wholeheartedly recommend her for your next writing project!
—Tara Gentile, author of Quiet Power Strategy
Amy offered great perspective and feedback on my writing, and I was impressed with how quick and thorough she is.
The content we worked on together is clean, tight, and ready for readers
, and I feel confident that they will understand what I'm trying to teach.
—Hilary Silver, therapist and relationship coach
Working with Amy allowed me to just write, knowing she would have my back as far as editing was concerned. I was very happy with her professionalism and work ethic. She delivered when she said she would and was very easy to work with.
—Brenda Braxton, author of The Little Black Book of Backstage Etiquette
Warning: there's a lot of work to writing a real book! But hiring Amy to do the copyediting meant that she did all the heavy lifting to clean up and finalize the content.
It was really a pleasure working with someone of Amy's caliber and timeliness! If you want your writing to become a work of art and something you're proud to be the author of, you really need Amy. 
—Michael Huffman, author of Zen Skin Care
Working with Amy, I felt like I was no longer on my own and that I was truly being supported by someone who is not just a great editor, but someone who cares about the success of my project. She asked all the right questions to focus my thoughts, make my message clearer, and dramatically improve the flow of my book.
She was able to take a manuscript that I was beginning to get frustrated with and turn it into a book that I am proud of and excited to publish.
—Mish Southgate
Amy came highly recommended as someone who could help eliminate redundancies and clarify the overall message of my book. Amy's work was excellent, and she helped make my book more focused, streamlined, powerful, and easy to read. Not only that, but we were working with a tight timeline, and I was impressed with how quickly she was able to turn this around.
I was nervous about the process, but Amy made it fun
, and I'd absolutely recommend her work to others.
—Carrie Greene, author of Because You're Worth It: How to Make More Money by Charging More Money
There were many things I loved about working with Amy. First of all, she is incredibly reliable—and when you have a pipeline where one part of a project depends on the timely completion of another, meeting deadlines is imperative. Secondly,
Amy went above and beyond to make my piece captivating and easy to follow
. She also improved the flow tremendously, which was incredibly important to me. The information needed to be presented in such a way that readers would fall in love with the program I was introducing them to, and Amy nailed it!
—Natasha Vorompiova, systems coach and author of Asana for Small Business
I realize some authors are afraid an editor will alter their voice or style, and Amy absolutely did not. The cost of hiring an editor isn't pocket change, but Amy's guidance was irreplaceable and worth every penny. I will hire her again in a heartbeat.
—Jami Rodman, author of The Las Vegas Madam: The Escorts, the Clients, the Truth
I wasn't sure I could afford an editor or if I even needed one. However, I wanted my book to be fantastic, so I thought I would see what was out there.
When I saw Amy's work on an excerpt from my book, I was sold. 
Not only did she correct the minor punctuation errors, she gently pushed me to write more and expand ideas that really helped my book take shape. I just got my first copy of my print book today! Thanks so much, Amy. I couldn't have done it without you.
—Kelly Alexander, author of My Year Off Men
I'd never worked with an editor before, and I honestly did not expect an editor to let me be in control of my work, but Amy always made sure I got what I wanted (only in an edited fashion).
I was also very impressed by her ability to communicate with me in layman's terms.
I was relieved that Amy was so easy to work with. She's very good at what she does and I had the most pleasant experience working with her.
—William "Frank" Villanueva, PhD, MBA
I hired Amy to edit my first book in English. My English is good, but it is my second language, and I wanted to make sure it was perfect.
I have worked with quite a few editors before, but none with an eye for detail like Amy.
When I got my manuscript back from Amy, it was filled with corrections and suggestions for changes. It was amazing! Every single suggestion made my text better and my readers will benefit from Amy's hard work.
I cannot recommend Amy highly enough. Not only is she a knowledgeable and perfectionist editor (and you really want that), she is a joy to work with. If you don't have an editor yet, hire Amy. You won't regret it.
—Pernille Norregaard, writing coach and ghostwriter
I was surprised (in a good way) by the time and effort that Amy put into her work
. She paid close attention to my content and if something wasn't very clear, she offered suggestions that were smart, clear, and action oriented so it was easy for me to go through her edits and decide what to do next.
I feel confident that my proposal is more powerful now than it was before I hired Amy. Amy is smart and a total professional; she gets the work delivered when she says she will, and gives more than you expected so that your materials are polished and cohesive.
—Mercedes Maidana, motivational speaker, writer, and abundance coach
Amy made a huge difference in my ability to get my book done, and to turn out a manuscript that I had every confidence was free from typos and incorrect wording. More than that, it felt like
Amy was a partner in the process.
I couldn't wait to get her comments back, and she was very responsive to my needs. She made the process fun, and the quality of the final product is far superior to what it would have been without her help. I would definitely hire Amy again, and recommend her services to anyone who is looking for editing.
—Janis Bowersox, author of So You Want to Open a Yoga Studio
Amy has a unique talent for polishing your words while keeping your voice
. With her help, my book still sounded like me, but better and free from errors. Amy's advice and recommendations were always very generous, easy to follow, and uplifting. She was essential in helping me finish my book. I enjoyed working with Amy, and recommend her to everyone who has a message to share with the world. You'll be in safe hands!
—Yiye Zhang, six-sensory spiritual teacher, business & life coach
Amy provided high-quality recommendations and edits to make the content easy to read and understand, and to make it resonate with my target market. Other editors have put their own spin on my content without understanding the objective. But because Amy has a similar target audience and works with many women whom I consider to be my peers,
she was able to give me a tailored experience that was completely aligned with my objective, my offerings, and my ideal customer
. I would absolutely recommend Amy without hesitation!
—Anastasia Valentine, CEO, chief strategist & positive instigator, ANVIVA International
I sent Amy some copy I had written for my website. I thought it was pretty good, but figured she might find a typo or two that I missed. Was I ever wrong! 
She came back to me with a ton of fantastic changes and comments. I'm hooked!
Amy is amazing.
—Shay de Silva, founder, Fast Fitness to Go
I came to Amy because I needed someone to look at my writing with fresh eyes, to find mechanical errors and suggest other improvements. She greatly improved the clarity of the text, and her edits caught lots of little errors and made the text simpler and easier to understand. 
Amy approached my writing with kindness and respect, and working with her was easy and fun.
I absolutely recommend her to others.
—Natalie Hill, The Sacred Business Coach
I had a story to tell, and seemingly plenty of words, but wasn't sure if the way the words were structured would be easy to read and follow. Once Amy had edited my manuscript and highlighted areas for clarification or further expansion, it really did feel like it was still my voice, but better.
The emotion and poignancy were still there, but where my thoughts had flown from my head to the paper in a constant stream, they were now subtly structured and organised for ease of reading by someone who hadn't lived my life and couldn't fill in the gaps themselves. Thanks to Amy's input, when I sent my manuscript to a publisher I was much more confident in the response I would get even as a first-time author. All our work paid off, and my book was published by Action Deafness Books!
—Tamsin Coates, author of Meanwhile I Keep Dancing
After many drafts, I couldn't see straight. I knew I needed professional help to improve my manuscript, and I got lucky in finding Amy Scott. From the beginning, working with Amy felt like a collaboration.
It felt as though she was just as invested in my book as I was, which was a true gift.
Amy asked the perfect questions, in just the right way, to help me clarify what I was really trying to say. The text flowed so much better after Amy rewrote parts of it and moved sentences and even whole paragraphs. I learned so much during our process, and my writing has greatly improved as a result.
Amy has experience in traditional publishing but also embraces the digital world with curiosity and enthusiasm. She helped me solve problems as I navigated the many complicated issues around editing and preparing a manuscript for both print and e-book formats. I highly recommend Amy, and she will be my first choice to edit my work in the future. She is simply a delight to work with, and hiring Amy was the best decision I made for my self-published book.
—Jean-Christie Ashmore, author and indie publisher of Camino de Santiago: To Walk Far, Carry Less
I worked with Amy for about six months on editing my training manuals, website pages, and free offering (no small task at somewhere around 300,000 words). Before I met Amy, I had been sending sample pieces out to prospective editors, but it was a horrible experience. With Amy, things were very different. During the back-and-forth editing process, she was professional and highly organized. She asked insightful questions, and
her natural curiosity was a driving force in creating greater clarity in my text
.
I'm not a professional writer; my expertise is in building collaborative teams. While I needed my writing to be clear, I also wanted to preserve my unique style, and Amy was able to strike that perfect balance. I plan to work with Amy again and I highly recommend her for any editing job. She is at the top of her game.
—Robert Donaldson, owner, Collaborative Strategies
FREE Guide: 10 Essential Questions to Ask before Hiring an Editor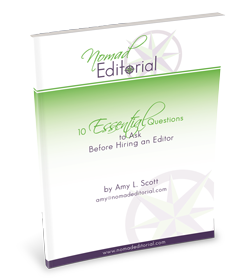 This free PDF walks you through all the important questions that will help you hire the best editor for you and your project.
You won't be subscribed to the quarterly newsletter unless you explicitly request it after receiving your guide. View our complete Privacy Policy.