My
lengthy track record and numerous testimonials
certainly speak to my skills and expertise, but if you need more proof—or just aren't sure exactly what an editor does or how I can help improve your content—this page is for you!
For book-length projects (10,000 words or more), I offer a free sample edit on an excerpt from your book. This is the best way to get a sense of my approach to your writing and what it will look like when we're done. Contact me if you'd like a free sample.
Below are samples from other projects I've worked on. (Click on the gray bar or plus sign to expand each section.)
Editing: Book on Skin Care
For this project, I helped improve the flow of the text, cleaned up inconsistencies, and fixed errors in grammar and punctuation.
Editing: Website About Page
For this website About page, I edited for typos and other errors and also provided feedback on ways the copy could be improved, expanded, and clarified.
Editing: Code of Conduct for a Conference
With contributions and edits by several people, this document was in decent shape but had some inconsistencies in spelling and punctuation and some awkward phrasing. Cleaning up these issues made the message more clear and helped the conference organizer put forward a more professional image.
Let's get started!
I'd love to hear more about your project and discuss how we can work together.
FREE Guide: 10 Essential Questions to Ask before Hiring an Editor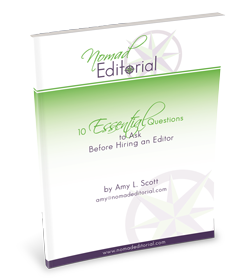 This free PDF walks you through all the important questions that will help you hire the best editor for you and your project.
You won't be subscribed to the quarterly newsletter unless you explicitly request it after receiving your guide. View our complete Privacy Policy.